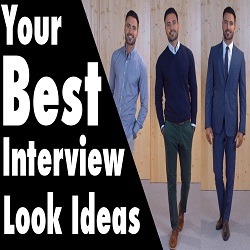 What to wear in an interview
"Why should I select my shirt?" "Whether it's blue or white, it shouldn't matter." These are some of the common questions that you get while going for a job interview. According to job givers, placement consultancies, HRs, and top recruitment agents, what one wears has a significant impact. It's not about how expensive your dress is; it's about pleasing the person's eyes by displaying your personality through the color you wear.
So what is with the colors? Why do colors become so important when selecting some sort of formal outfit? Why do recruiters, placement agencies, human resource consultants, and recruiters all stress the importance of an interview? It all depends on what each color represents about the person wearing it. Below, we list a few colors along with some descriptions of who they represent.
Blue:
With its positive connotations of friendship, loyalty, optimism, confidence, serenity, honesty, dependability, peace, intellect, efficiency, success, control, compassion, sympathy, independence, truth, and wisdom, blue is a real clothing essential.
Orange:
In general, orange is a hit-or-miss hue since it might convey your ambition and creativity. However, if you wear too much, you risk appearing like a traffic cone.
Yellow:
In general, wearing yellow will make you feel joyful, cheerful, and upbeat. Since it is the color of sunshine, it has the power to uplift everyone.
White:
A neutral color, white is actually the absence of color. Because it is essentially a blank canvas, it may be worn by many different personality types. White may help you come across as pure and innocent, as well as make you seem structured and in charge of the situation.
As some of these colors represent what is shown here, there are downsides to each color. Orange, for example, can be a little too flashy, and red can be more of a symbol of love than of confidence.