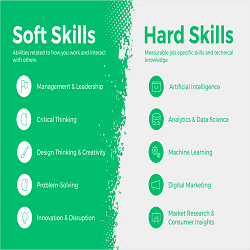 Why do skills matter in a job?
In this era of candidate-driven markets, essentially every company is looking for freshmen, experienced individuals, and quality job-doers. All of this makes it difficult for recruiters to outsource companies' demands. Now, it is not that the demand creates the supply; the problem comes when the placement consultants or the job-givers are not able to find the qualities in the supply that are needed to meet the demands.
According to surveys and common problems of job recruiters, this is the case:
Most of the candidates apply for some job even though they are unqualified, or are less skilled then what is needed.

Placement consultancies and recruiters often face about half of the candidates who are not qualified applying for some job.

Those who are skilled and and are currently working always look for increase in their pay-grade and so are always connected with the recruiters.
Finally, we can say that it is about having the right skill set for what is required in a particular job.
Understanding the mindset of recruiters at job placement companies, it becomes important to look for fields that match your skill level to get success in getting a job, giving you time to learn other skills while maintaining your current skill level.
This entry was posted on December, 30, 2022 at 12 : 35 pm and is filed under Interview preparation. You can follow any responses to this entry through the RSS 2.0 feed. You can leave a response from your own site.